Upload your file for laser engraving
If you are uploading more than one file, please be sure to fill out the "file description/instructions" field for each upload.

Maximum file size: 5MB. Acceptable file types:
Photos
Please send the best quality photo you have. If the photo is blurry or grainy on your device or computer, it won't reproduce well when lasered onto your order.
300 dpi at the finished size is recommended. (For example, if you are ordering a 5×7 plaque, the photo should be 300 dpi when enlarged to 5×7.)
High contrast photos work best. Photos with dark shadows across faces don't reproduce well.
We generally remove the background (lines on recipes, anything but people in photos) to help make your subject pop. If you want the background in the photo, be sure to let us know in the "notes" section below.
Scanned Hand-Written Recipe Cutting Boards
A black & white scan at 600 dpi is the preferred method of getting your recipe to us.
Next best method is to photo copy the recipe and snail mail it to us at 14700 W. 72nd St. N, Colwich, KS 67030. (Please, please don't send originals!)
Last option is to take a VERY FOCUSED photo of the recipe in good light. The paper should look white in the photo, not gray.
Push Button or Control Panel Legend I.D. Plate Order
If you don't want to type in each and every label and dimension, simply send us a list of the labels you need.
We can even use scanned highlighted electrical drawings!
Coming soon – interactive downloadable order form!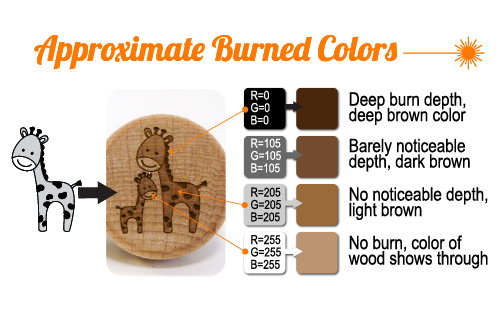 Vector Files (for Wine Stoppers, Cutting Boards, Glassware and more)
We love graphic designers! Please ensure your file is ready to go with the following specs
COLORS

Use RGB color space.
To engrave: use: Black (0,0,0) | Dark Gray (105,105,105) | Light Gray (205,205,205) | White (255,255,255)
To cut: use Red (255,0,0), stroke width 0.001px. Please note, not all material may be cut. Max. thickness for cutting is 1/4″.

FILE PREP – Outline all fonts and expand all curves and strokes
We size all vector drawings to fit, so any size you submit is perfect. We'll send a proof prior to production.
We now offer photo-realistic template downloads for a growing selection of products. Pdf documents are created in and editable with Adobe Illustrator CC. If you need us to provide an earlier version, please contact us.

Cutting Board Template[Coming Soon!]
Wine Glass Template[Coming Soon!]
Cake Topper Template[Coming Soon!]
Christmas Ornament Template[Coming Soon!]
Yo-Yo Template[Coming Soon!]